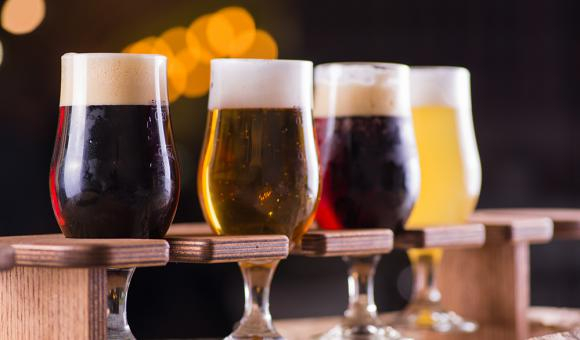 F&B products bolster the reputation of the Walloon terroir. Wood and natural stones are among its other treasures.
Food and Beverage
Belgium and Wallonia are known throughout the world for their food products and gastronomy. The companies in these sectors include some large businesses which are big exporters, in sectors such as frozen potato products, biscuit making, butter manufacturing and the production and packaging of mineral water.
However, it is the small companies - some of them craft businesses - that shape the reputation of Walloon products. Their products are produced from high-quality land, the result of careful agricultural cultivation that respects the environment.
Many of these Walloon food products are labelled as "organic", a label they are happy to display. Specialist beers and many varieties of chocolate are still the most famous products. Despite this, there are many other specialties that are widely exported: cheeses and cold meats, of course, but  also waffles, cider, beef (BBB label) and pork, confectionery, foie gras, ready meals and, more recently, viticultural products.
L'APAQ-W (Walloon Agency for the Promotion of Quality in Agriculture) aims, in particular, to communicate and generate appreciation for the specifics of Walloon agriculture and to turn this into a positive image for promoting businesses and products and developing educational campaigns. Wallonia also hosts one of Europe's foremost international agricultural fairs, the Libramont agricultural, forestry and agri-business fair (held in July each year).
Wallonia has also started a club of some 70 businesses that are now Halal-certified.
The agri-food industry – including untreated and prepared products – is Wallonia's 5th biggest export sector, but the 2nd largest in terms of employment (approximately 21,000 people).
The food ingredients sector has become one of the biggest export areas, largely thanks to the Wagralim competitiveness clusters. It focuses specifically on the nutritional properties of food (the battle against obesity), food-storage conditions, organic packaging, and the production and marketing of a new soluble food fiber and fermentable cereal extracts.
For your reference:
The Walloon agri-food portal (AWEX) (database of businesses)
Club of Walloon Halal certified businesses (AWEX) (database of businesses)
Fevia Wallonie (Walloon section of the food-industry federation)
Stone and wood products
Another product that originates from Wallonia's natural resources is ornamental stone, including the famous blue-stone. This is another sector where two groups come together: one with international standing and one with less illustrious careers and more niche channels. These businesses are making a major contribution to what the sector can offer in terms of construction materials, a sector where the forestry industry has, for many years, been making major breakthroughs in influencing sustainable housing trends in a number of ways (timber, panels, complete homes, furniture). There are two business clusters that specifically deal with these issues and which include businesses in the sustainable construction sector: Cap 2020 and eco-construction.
Namur, Wallonia hosts a major annual international trade fair (Bois et Habitat)
Find a business in these sectors:
Walloon stones and marble
Woodnet (the wood portal)
Walloon construction confederation